I took a mosaic class at the local art gallery with a couple of friends last winter. My class project is hanging on our back porch. Since then I've made a little mosaic table. And I've been saving plates with roses on them because my grown up foster daughter loves roses. In my last post, I showed the beginnings of the lamp I am making for her.
Here it is with everything glued on, ready to grout: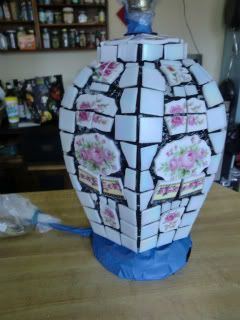 And here it is grouted: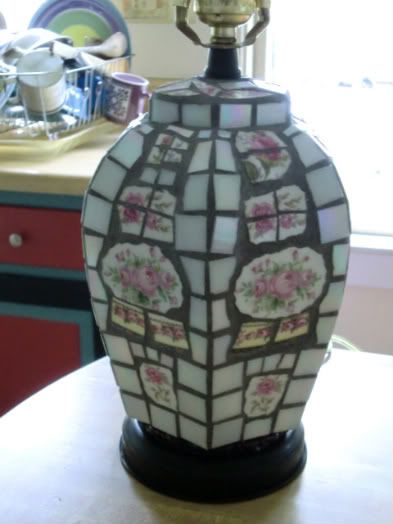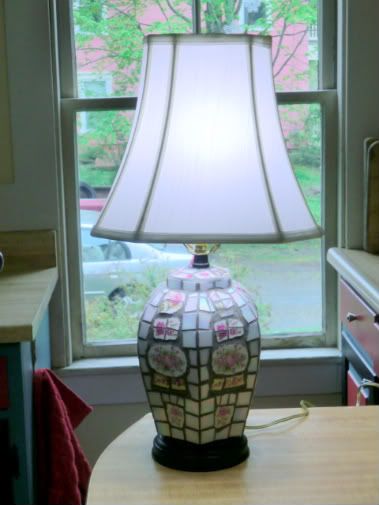 She likes it. Yay!
The Process: Its easy, just takes time. Lots of time. I find it very restful, fitting the pieces together. I used the wheeled nippers that I got in my class mostly, to cut the dishes. Then I tumbled the shards in a little rock tumbler with water and a drop of dish soap. The pretty white glass tiles were at HD for $5 /sheet. I cut some of those in advance and tumbled them too. Anything that I cut to fit as I went, I filed the sharp edge. Glued everything down with Weldbond (for inside or covered porch objects only - it is water based.) Then grouted with sanded grout. I wish I had lightened up the grey just a tad. But generally I like it. I also really wanted a 6 sided shade in white, but I couldn't find one (only cream), so I settled on this 8 sided one.
Thanks for looking.
Kathy