I'm on the late side for
Yard Art Thursday at Work of the Poet
. Check out the other yard art there!
I was feeling nostalgic for our trip to Costa Rica in 2007. I'm trying to learn Spanish and I wish I could go back!
We loved Costa Rica. It has been a democracy for a long time and all the children go to school. And they like USers! Its more expensive than say, Mexico, but a society that sends its kids to school costs more. young people go to college to become guides in the rain forest and cloud forests and are very knowledgable.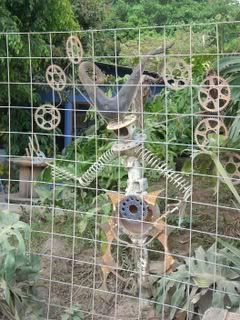 The jester in this picture was in front of a bar in Santa Elena, a town up by the cloud forest. The bar was closed which is why he is behind a fence. There is almost no violent crime in CR, but a lot of theft.
I wish I had the talent to make him!
Enjoy,
Kathy