In January when I started this post, I'd had a very bad cold and been rattling around the house. Finished this shawl designed by Deb at
FullCircleQuirk
after not knitting for many years. In winter my mind turns to fiber arts.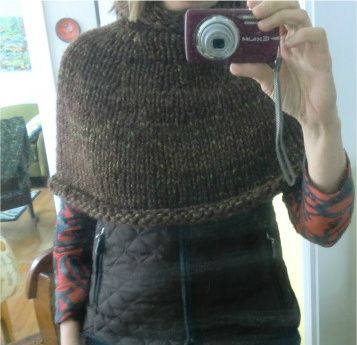 I found myself thinking about the knitting knobby I had as a child. And wondering if any of my friend's or their children on our street would be interested in learning. First I had to see if I could do it myself. I don't have a knobby anymore but I found a cool one made from copper pipe on line
HERE
and totally copied it. Luckily all supplies were in the basement workshop. I did add a copper joiner piece to the top because I was to impatient to grind the pipe as smoothly as I should have. I love its kind of craftsman steampunk style.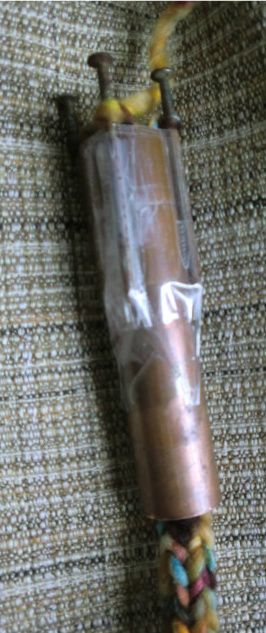 Black yarn was handy and I remembered after a foot or so that I need a tie for a black cotton robe. The Lion brand chunky varigated yarn i got at a discount store and I'm going to make it as long as possible then decide what to do with it.
Then I went nuts and made more of them, one from a tin can and one from pens.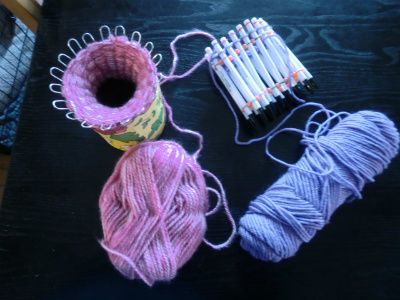 I can't find the blog where I saw the genius idea of using pens. You put 2 pony beads held with little elastics between each pen (an inch or more from the ends) with the ink part removed. I used el cheapo pens from the dollar store and they didn't have a top cap like the ones in the blog so I put an elastic on each so the yarn wouldn't slip off. You can add more pens or take some out, or even knit straight instead of in a circle. If anyone knows the blog I'd be happy to credit the person. The tin can one has bent paper clips. I bent the small part of large paperclips down and used 2 pliers to bend the large ends. Then I taped them evenly spaced around the tin can. BTW, I have one of those can openers that leaves an edge that isn't sharp. Here are close ups of how the "knitting" is turning out.
The Pens you are looking at the inside. Its turning out similar to the tin can. Almost like I dropped all of the pearl stitches in a ribbing stitch. I kind of like it.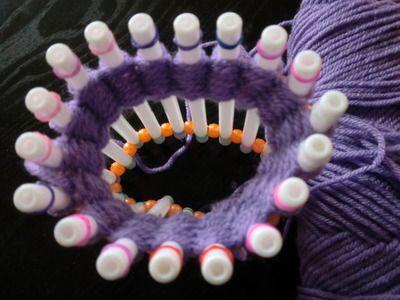 I also bought this little child's singer knitting machine for a dollar at a thrift store. Its missing the tension control, but I just wrapped the yarn around the top of a chair. Luckily the directions came with it. The soft green acrylic yarn works better than the wool knitting worsted.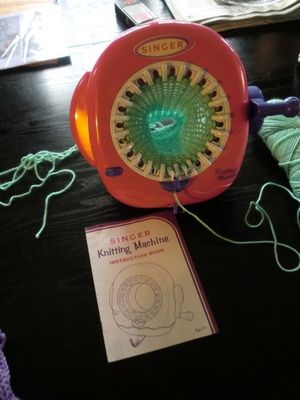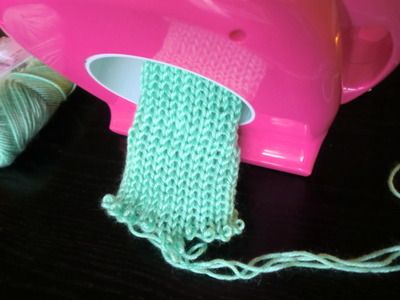 Here is the reject, but it made me realize that by dropping stitches, or turning around on my other spool knitters, I can create spaces for thumbs or whatever.
I'm imagining making Franken-gloves. Fingers are almost never long enough for me. But now its in the 70s F, and who needs gloves!
Hopefully I'll teach my friends 3 little girls soon and will be able to report on that.
I'm linking up to
The Thrifty Groove Thrifty Things Friday.
AND
Twig Studios Sunday Showoff
! Check out the cool things in both places!
Kathy