This is what I've been working on the past couple of days. I found very detailed
instructions plus a video
to make fabulous Kanzashi flowers. I just did the big flower part and took the easy route by using buttons and what have you for the centers. They are about 3 1/2 inches across.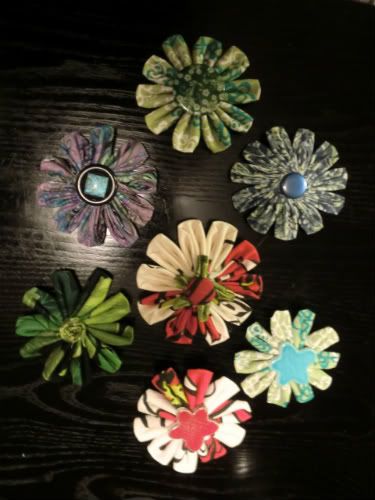 Making the flowers is fun - kind of like origami with fabric. One thing that I did differently - I didn't iron the first fold after the first flower. So much faster. And it came out exactly the same. I'm not trying to win a contest, just to make some pretty brooches.
Added later: Another thing I am doing differently is I do knot the thread so it is easier to keep track of and I don't accidentally pull it through. I may try leaving the other end on the needle when I tie the final knot. Sometimes it is hard to see.
Let me know what you think!
AND check out other projects at
Whatever Goes Wednesday
at Someday Crafts, and
Finished for Friday
at Lit and Laundry.
Kathy