Here is the infinity card that I made last night. My husband is going on a business trip on Saturday and he'll be gone for Valentine's Day, so I'm going to sneak it into his suitcase. I already trained him to open them properly by showing him my first attempt which I posted yesterday. I used scrapbook paper, and glued images on once I constructed the card. Here I added a butterfly to the front.
Then this is what you see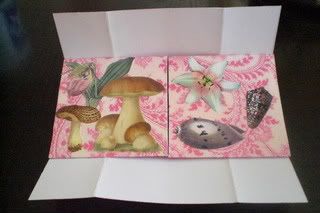 when you open the front by bringing the middle cut up and down. These represent things that my dh and I like to do, look for wild plants when we hike, go to the beach, garden.
Then you open those images like a cupboard door and you get this: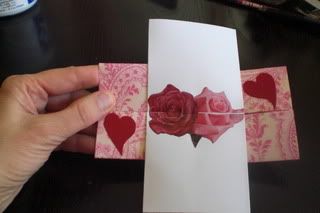 (I'm going to add words, in some of the white spaces). Then you open up and down from the middle again and:
this is the back of the card, but when you open it like a cupboard door, you find yourself back at the beginning!
I made another by printing on the back of scrapbook paper, but I printed some of the images upside down by mistake. I figured out how to make a perfect template in paint shop pro while I was in the shower, but I've run out of time this morning.
Thanks for looking. Check out yesterdays post for the link to directions and a video on how to make these. Very very simple really.
Kathy
I'm linking to
Lit and Laundry's Finished for Friday!
Check out the other accomplishments there!