This week I'm mixing a craft with my VTT post. Visit
Coloradolady
to see the other cool vintage things!
I found the blog, Paper Forest, yesterday when I was looking for more info about my Craftrobo cutter that I bought to cut vinyl letters for signs at work. (It can also cut intricate scherenschnitte-like designs in paper, which I posted about
here
.) Instead, I was totally enraptured by the
"infinity card" video tutorial
by illustrator Marilyn Scott Waters that I rushed to make my own card - not finishing reading the directions (typical me, I'm afraid). I missed the gift PDF to print MSW's card as shown in the video with instructions. Check it out!
Above is my not very beautiful attempt sitting on top of some pretty paper. I used vintage images that I have handy on my computer. This is the front of the card, and you can see that it is split across the middle.
To open, from the middle you open the top section up and the bottom section down, and you see these 2 parrots, photoed here with my Royal Baking Powder vintage tin:
Next, you open the parrots out to the side and you get this kind of boring look at these 4 decorative squares. I'll do better on the next card I make!
Then you open up and down from the middle and you just see the design printed on the backs, shown here with my Memere's white glass salt pepper and seasoning shakers that she always kept by her stove,
and finally you open that side to side and you are back at the beginning.
I think this concept would make an awesome valentine card if printed on the back of one or more of the pretty papers that I have pictured here with some salt and pepper shakers. I'm going to try to make some tonight and post tomorrow on Finished for Friday.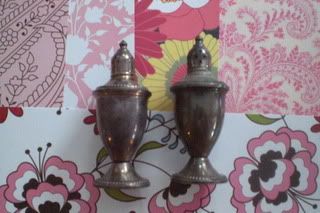 The salt and paper shakers say "Sterling - Weighted" on the bottom, and also "by Duchin". They are lined with glass, except not the shaker. I just found them going through some of my old kitchen stuff I had stored in the cellar! Does anyone have any suggestions for cleaning? Is it safe to pour salt through the unlined silver tops/shakers? Aren't they cute anyway?
Thanks for looking. Check back tommorow to see Valentine Infinity Cards!
Kathy