This isn't what I'd planned to post for FFF, but I didn't finish my dress. Maybe next week! Check out the other posts at
Lit and Laundry's Finished For Friday!

I didn't love my Christmas Goose. Tho I cooked it by Julia Child's directions in my new cook book and gift from my dh "The Way to Cook".
I thought I would like all dark meat cuz I prefer dark chicken and turkey meat, and I like duck. But no. It is actually kind of chewy which doesn't appeal to me. So after making various leftover dishes which my dh ate most of, I finished it off Friday with Goose Pot Pie, following JC's recipe (sort of) for Turkey Pot Pie. Its good! But I didn't think to take a pic until we had eaten some.
Goose Fat is supposed to be the best thing to cook potatoes. You can see I have a jar there that I canned. I also gave 2 smaller ones away, but for them I painted the top of the jar pale yellow then glued the goose picture.
I fried some red cabbage and onions in it and it was delicious.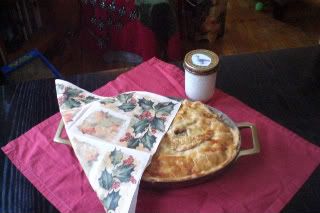 Happy New Year!
Kathy