Ok. I was over at
Why Not
How About Orange reading about
how to make coasters out of strips of magazines
. And I
was technically at work and
had to make a long phone call that mostly involved me listening so I decided to do a little weaving while I listened. Any way, I got caught up in listening and didn't follow the instructions right, apparently remembering instead those woven heart baskets you hang on the Christmas tree. So I ended up with a two layer square pocket which is too thick and uneven to use as a coaster. What to do with it?
A wall pocket!
Ta Da!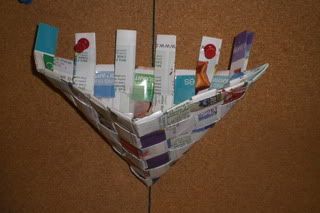 I had my high lighters in it but took them out for the photos. And here it is in context: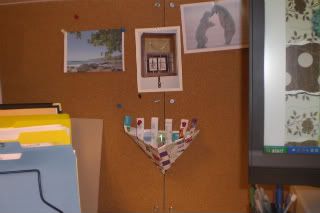 Hey its better than buying plastic things to put things in isn't it!
Kathy