Visit Suzanne/Coloradolady to see the
other Vintage Thingies Posts
.
Here are some vintage thingies from my kitchen that I use often: My great grandmother's cast iron dutch oven and ceramic crock. Just to put them in context: these great grandparents married in 1900. I use the crock to hide things that I need nearby but don't want out in the open. Right now it has kittycat medicine in it. She had several more, I'm told, this one is the smallest. She kept food in them in the cellar. Then theres the world's best jar opener (see the gears on the underside?)is in the front on its side, and finally a grey pot that I keep on the counter as a catch-all.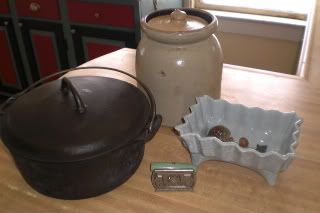 The next 2 photos are plates and bowls that I got mostly for 25 cents each yesterday, some a bit more, to make plate flowers or (gasp) to break up for mosaic. There were 3 more but I took them to my mosaics class last night and broke them up for my project. I just love the hollyhock bowls. I will probably use the other bowls for kitty dishes. There was a whole stack of the glass star shaped plates but they were expensive at $1 each (as were the hollyhock bowls) so I'm going to play with them to see if they are wonderful enough on plate flowers to justify the price.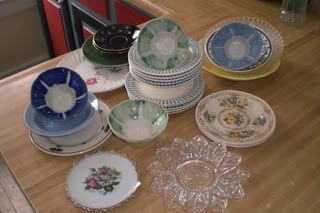 I just think the appleblossom plates are so pretty, I took a closeup.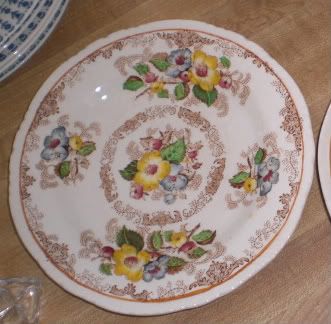 Thanks for looking!
Kathy