A couple of posts ago I showed some
flowers I made from fabric strips
. I put one on my purse and looked around for other things to do with them. I found this nice tote bag at a thrift store for 75 cents. Its burlap, backed with a flexible water proofing. Very sturdy, built to carry pottery apparently. I don't like the big knots on the inside handles, and I want a pocket that its safe to carry money in.

Here is a pic of the handles with knots: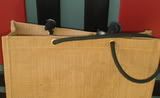 My first task was to hide the words so I applied some flowers that I had already made, next, how to close up the pocket? Memere's zipper box came to mind and I found this big old metal zipper and hand sewed it to the flap. It wasn't long enough but left just enough room for a custom cellphone pocket. And see the bright green on the right? That is some giant ricrack that I really wanted to use for handles, but you can see it is the wrong color (when returned to Joann's I brought a piece of fabric).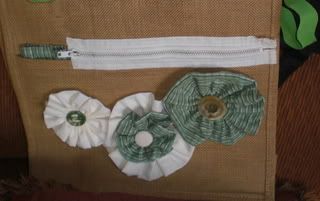 There was no giant rickrack in a suitable color, but my dh actually found what I used. I wanted something flat so I could sew the ends together on the inside rather than having knots. A bonus is that I can gather 2 loops from inside to shorten the handle length (instead of shoulder length)and carry in my hand without dragging on the ground. The only thing left to do was disguise a small stain near the top. I did this by stenciling my initials. I cut a vinyl stencil on my cutting machine at work and then stenciled it during my Art Club last nite (9 of us this week!) I was going for a typewriter key look. Here is the finished product. Ready to go shopping on foot carrying everything I need and purchases too.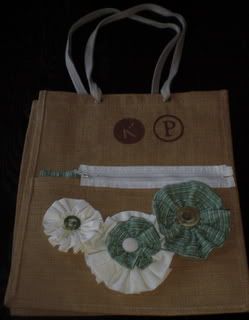 I'm linking up to
Whatever Goes Wednesday at Someday Crafts
. Be sure to check out the other projects
here!
I'm also linking to
Tea Rose Home's new link party
featuring crafty creations! Check them out!
Kathy