Happy Vintage Thingys Thursday! Check out the other
VTTs at Coloradolady
!
Today I'm talking about and showing some of what inspires me.
First is a print from "La Natura e Coltura de Fiori", by Filippo Arena in the '60s. No not THOSE 60s, the Seventeen Sixties (1760s)!!!
Arena was a Jesuit professor of philosophy and mathematics in Palermo who published his beautiful drawings in the book named above.
Mine is a copy from one of the original prints, tho the color was probably added years later. Arena wanted his drawings to be of use to craftspeople. I love love them. Originals cost $700 to $1000, so I'm not getting one anytime soon. Check out my as yet ungrouted mosaic on
garden web's mosaic forum
to see how this print inspired me.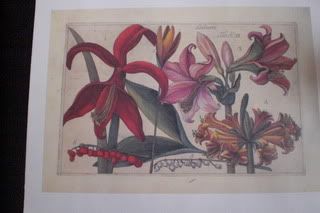 Next are a couple of pages from an old book. Bought the pages at a flea market. I have used the images in decoupage. Next to each are the circle thingys I made at Art Club last night while helping my friends to decoupage. My next post will be what I do with them on Finished for Friday.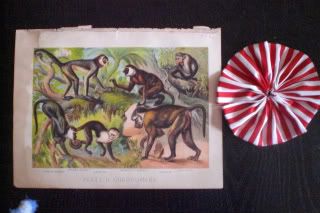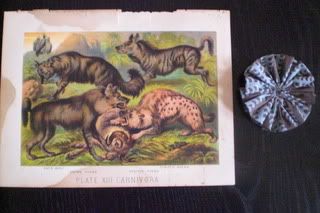 Years ago I made a secret santa gift (decoupaged vase) for a co-worker who had a "thing for hyenas".
Last is a picture of some old flower drawings that I hand-colored. The b&w prints are from some of my copyright free Dover books. I hand colored with fancy smancy colored pencils dh got me for Christmas one year, then color copied then cut out to use for decoupage. That way I get something beautiful and unique and avoid copyright issues.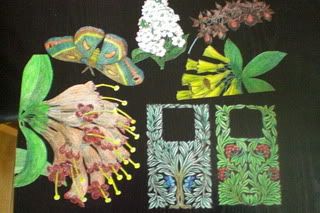 Thanks for looking! What inspires your art and crafting?
Kathy