Last night I had some women from the neighborhood over to hang out on my new porch! And I'm sitting there now to write this post. Check out other projects at
Bobbypins Boardwalk's Bragfest!
Two years ago our back porch was listing and we knew we had to have it repaired. The 1920s vintage footings for the porches were concrete poured in nail buckets. In the process we decided that we should screen the porch in and make it look similar to the upstairs screened in sleeping porch. Finally the screening was completed on Monday! The reason it took so long, is that my dh wanted to do all painting and repairing before the screens were up. I'm so pleased. Our house is not beautiful, but it is a nice practical comfortable home. The trim is white (and peeling) in this pic - not sure where the yellowy green came from! And we did have lattice on the bottom, its been torn off in the pic in prep for the digging.
BEFORE: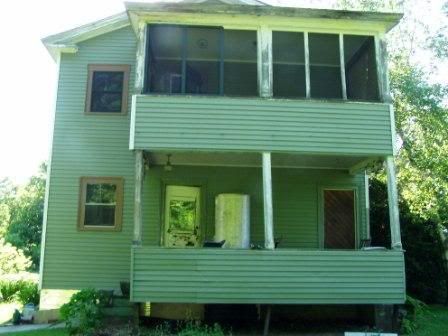 AFTER:
We also replaced the skinny corner boards with wide ones all over the house at the same time. The porch faces east and the siding is a bit washed out looking cuz of the morning sun. We used Screeneze system (downstairs, upstairs is traditional screening.)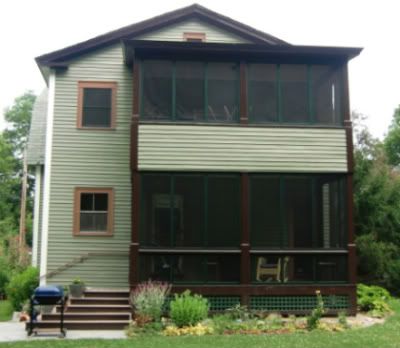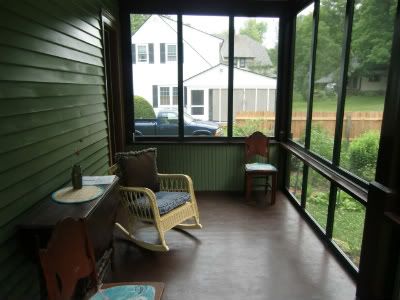 We have these engineered wood steps that are nice to sit on and a stone patio so that we still have outdoor living space. I was skeptical about the faux wood, but the steps are not slippery in winter like real wood steps.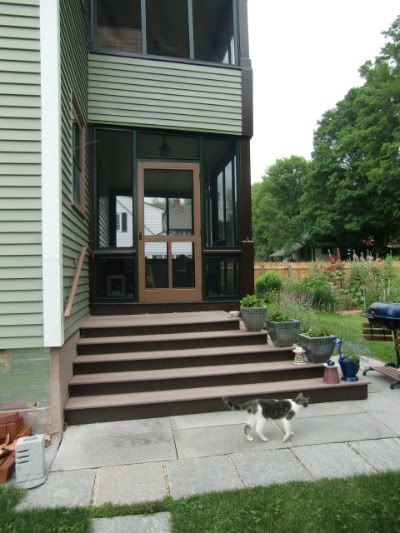 Thanks for looking. I'm sitting here drinking coffee with the kitties. They are slowly learning to use the kitty door in the screen to left of the people door.
Kathy