Lots of us save photos or descriptions of things that we would like to do someday. I tried keeping them in notebooks or folders, and I never looked at them again. So I am going to share what works for me. We are all different so I don't know if it will work for you, but I now regularly look at my inspiration pieces and more important find what I'm looking for. I have a place to keep them all.
I saw these cool photo albums on sale. The kind with clear plastic slots to slide your pics into. And I bought them even though I don't use that type for photos and I had no plan for them. (They were such a good deal,lol)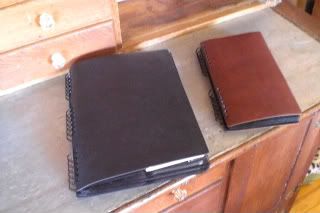 Then one day I wanted a place to put articles or pics from magazines or things that I printed on the internet and I grabbed the big album. It perfectly holds 8.5x11 folded in quarters. And quite a few folded pages fit in each slot. I try to fold it so what it is shows throught the plastic. If not I write what it is on the article where it shows. Recently I began the little one as a sewing inspiration to keep in the same room as my sewing machine. A plus is even tiny things don't get lost and I can quickly look at 8 in the big album and 4 in the small at once.
What works for you?
Kathy