I've been sewing each day and finished my curtain but not my dress.
I decided to post some of my old family pics for VTT. First photo: My grandmother and a cousin in a birch bark frame. My grandfather and his cousin, cabinet photo. (He is on the right!)
Second: My dh's great grandfather as a boy, then great grandmother and he in a nice paired frame.
Third: What I have done with copies of some of my old photos. I call them ancestor worship candle holders. Dh's family on the right one and mine on the left.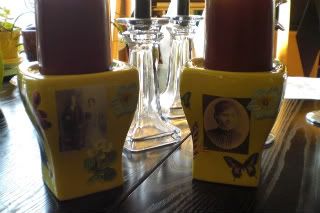 Check out everyone's VTT posts at Colorado lady! I'm still learning so I apologize if my link to her blog isn't hot.